If you want to clean your washing machine and give it a refreshing smell and help it to get rid of clothes and detergent remains, you'll need the right cleaning agent. We can find multiple products on the market but on this occasion, we'll find out how the Finally Fresh washing machine cleaner works.
Finally Fresh washer cleaner is a washing machine cleaner that penetrates and removes residues that are causing unpleasant smells and stains on our clothes. The cleaning agent uses active oxygen decontamination properties to effectively remove bacteria from the washing machine's surface.
If you're thinking about buying the Finally Fresh tablets for washers, my experience may benefit you. Below I shared what I learned after I tried this product on my washer. There are positive features, but also some drawbacks. Hopefully, you'll be able to make the right decision after reading my review.
What is Finally Fresh?
Finally Fresh is a product that comes in small tablets. Each tablet contains an oxygen-based bleaching agent, which helps to remove the odor and detergent residues from your washing machine—and it's safe for both clothes and people.
I personally tested it and was amazed at how well it works. The tablets dissolve quickly and don't have any odors or residue that would leave your washing machine smelling like chemicals.
The company claims that their product will work in all types of washing machines, but I would still recommend checking with the manufacturer before using it.
The tablets are simple to use and dissolve completely in your washing machine during the normal cycle. Just drop a tablet into the drum before you start washing and Fresh will do the rest.
Finally Fresh is also safe to use with all washing machines and water temperatures. It doesn't leave any residue or build-up behind, so you can continue using your machine as normal. After using Fresh, your laundry will smell clean and fresh—and feel soft and fluffy!
What is Finally Fresh washing machine cleaner made of?
Finally Fresh is a slow-dissolving foam tablet, made from EPA Safer Choice-certified ingredients such as surfactants, bio enzymes, and sodium bicarbonate.
This powerful formula guarantees efficiency against dirt, bad smell, and all other residues that might be generated in your washing machine.
Does Finally Fresh really work?
Yes, Finally Fresh is an effective cleaning agent. It will kill 99% of pollutants and give your washing machine a like-new shine.
Still, don't expect miracles – if you have to deal with hardened dirt stains, you may have to repeat the cleaning process or use some other cleaning agent, stronger than Finally Fresh tablets.
How to use Finally Fresh tablets?
There are just a few simple steps to follow when using Finally Fresh cleaner.
First, put one tablet into an empty washer and afterward run a normal cycle with hot water (or a clean cycle if available).
No scrubbing, wiping or other products are needed!
Finally Fresh reviews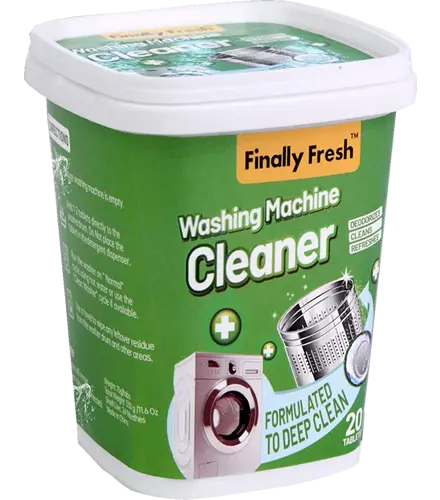 Powerful ingredients in Finally Fresh tablets provide triple decontamination to remove harmful dirt and stagnant odors.
This powerful foaming tablet penetrates and dissolves all odor residues during each wash cycle and makes the washer odor-free.
The tablets last throughout an entire wash cycle and are guaranteed to kill 99% of bacteria and pathogens within half an hour! 
Below you'll see what are the most valuable features of this product and what are its flaws.
Pros
100% environment-friendly
One tablet per month is enough
Usable on all kinds of washing machines
Effective and easy to use
Can be used on both plastic and metal tanks
20 tablets per package
A two-year shelf life
Cons
Strong smell
Some people have reported a slow shipping time
Where can I find a Finally Fresh washing machine cleaner?
Finally Fresh washing machine tablets aren't hard to find. Of course, you can order it on Amazon in the same price range as other washer cleaners, like Affresh or Tide.
Besides, the product is available for purchase on their Finally Fresh website.
Finally Fresh or Affresh
To have a better understanding and to easily decide what is better for you, Finally Fresh or Affresh for washer cleaning, I made a comparison table of these products.
| | |
| --- | --- |
| Finally Fresh | Affresh |
| Eco-friendly and environmentally safe | U.S. EPA Safer Choice certified product, guaranteed eco-friendly and environmentally safe |
| Compatible with any type of washing machine | Compatible with any type of washing machine |
| Can often be bought on sale | Cleaner with the best review on the market |
| Comes in a pack of 20 tablets  | Comes in a pack of 6  – A 6 months supply |
| Easy to use, once a month is more than enough | Recommended by Whirlpool |
Since I tried both products on my own I can say that both of them have their benefits and downsides. In my opinion, both cleaners are efficient and worth the money.
However, in the bottom line Affresh has a bit better smell and I prefer it better. On the other hand, if you're on a budget Finally Fresh is more affordable.
To sum it up!
If you're tired of being annoyed by your dirty washing machine, Finally Fresh is a great product for you.
This product is very effective and easy to use. It cleans machines easily. It doesn't leave any residue or smell and delivers great results.
However, I prefer Affresh over Finally Fresh, it cleans my washer much better.
I used my personal experience to present to you the main characteristics of this product and explained how to use it, but if you need any additional clarification or have doubts about Finally Fresh washing machine cleaner, please, don't hesitate to contact me, I'm at your disposal.
Happy cleaning!